Retail Trade trend estimate increased by 0.9 percent in September 2023 and by 2.0 percent year-on-year
The latest release (September 2023) of the monthly ABS Retail Trade data indicates that the overall month-on-month (m-o-m) trend estimate increased by 0.3 percent, equal to (a revised) 0.3 percent in August 2023. In trend terms, Retail Turnover increased by 1.5 percent year-on-year (y-o-y).
STATE OF PLAY
The following table summarises the key data in seasonally adjusted terms across the six ABS retail categories. The strongest growth was recorded for 'Department stores' retailing on a m-o-m basis (up 1.7 percent), whilst 'Cafes, restaurants and takeaway food services' retailing recorded the strongest growth on a y-o-y basis (6.1 percent). In seasonally adjusted terms, Retail Turnover increased by 0.9 percent in the month of September 2023, up from (a revised) 0.3 percent in the prior month. On a y-o-y basis, Retail Turnover increased by 2.0 percent, up from (a revised) 1.6 percent in the pcp.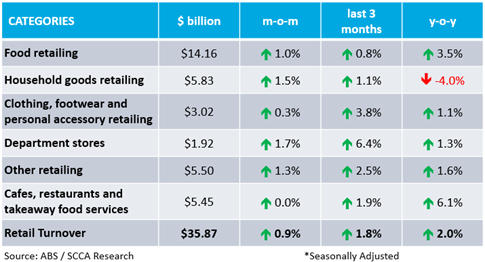 PRE-PANDEMIC ANALYSIS
Comparison of retail spending will be affected throughout 2022 and into 2023 given two main factors. Firstly, lockdowns and Government restrictions for 'non-essential' retail in certain jurisdictions (including during post-lockdown periods) will negatively impact short to medium-term comparisons, especially for month-on-month or quarter-on-quarter periods. Secondly, record spending during 2020, 2021 and 2022, due to the bounce back of consumer activity, has an impact on longer-term analysis (year-on-year). Given these factors, it is worth making a comparison of Retail Trade versus pre-COVID spending. Interestingly, all jurisdictions (including those exiting Government restrictions in the latter part of 2021) show positive growth versus the corresponding 12-month period in 2019.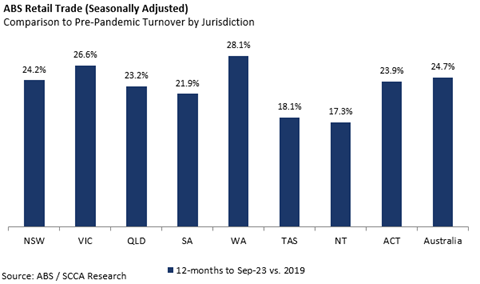 CHANGES TO THE RELEASE OF RETAIL TRADE DATA
As previously advised, the ABS has split the release of their Retail Trade data into two separate parts with more detailed data to be released next week. A further breakdown Retail Trade for September 2023 will be sent at that time.
---
Research note source from Shopping Centre Council of Australia.