The latest release (July 2023) of the monthly ABS Retail Trade data indicates that the overall month-on-month (m-o-m) trend estimate increased by 0.0 percent, down from an increase of 0.2 percent in June 2023. In trend terms, Retail Turnover increased by 1.9 percent year-on-year (y-o-y).
STATE OF PLAY
The following table summarises the key data in seasonally adjusted terms across the six ABS retail categories. The strongest growth was recorded for 'Department stores' retailing on a m-o-m basis (up 3.6 percent), whilst 'Cafes, restaurants, and takeaway food services' retailing recorded the strongest growth on a y-o-y basis (9.0 percent). In seasonally adjusted terms, Retail Turnover increased by 0.5 percent in the month of July 2023, up from -0.8 percent in the prior month. On a y-o-y basis, Retail Turnover increased by 2.1 percent, down from 2.3 percent in the pcp.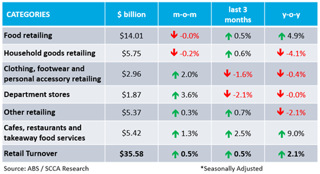 TREND ANALYSIS: ONLINE RETAIL TURNOVER

According to the 'experimental estimates of online retail turnover', online retail turnover decreased by 3.9 percent on an m-o-m basis in July 2023, noting that this data is in 'original' terms. By comparison, 'traditional retail turnover' (i.e. retail turnover less online) increased by 1.2 percent m-o-m. On a y-o-y basis, online retail turnover increased by just 0.4 percent versus traditional retail turnover growth of 1.5 percent over the same timeframe.
STATE BY STATE: BEST AND WORST

Retail turnover varies within the ABS-defined six categories and across different jurisdictions. The adjacent map outlines and compares the total growth of retail trade (y-o-y) and the best and worst retail growth categories. The strongest jurisdictions in seasonally adjusted terms were the ACT (up 13.3 percent to $7.9 billion) followed by New South Wales (up 9.2 percent to $133.1 billion) and Victoria (up 8.4 percent to $108.6 billion). The NT (up 4.2 percent to $3.8 billion) was the worst-performing jurisdiction in percentage terms. The highest growth across most jurisdictions was recorded for 'discretionary' categories, most notably 'Cafes, restaurants and takeaway food' retailing, whilst the weakest category across all jurisdictions was 'Household goods' retailin
Research note source from Shopping Centre Council of Australia.