You may have heard of Omnichannel marketing or retail. It's a bit of a buzzword right now. 
Yet few retailers have taken the leap to move to an omnichannel framework, let alone understand the concept and its impact on the bottom line.
What is it?
You've most likely got a multichannel framework already in place – a website, bricks and mortar store, Facebook page, Pinterest or Instagram account. It's important to distinguish that this is not omnichannel marketing. You utilise each of these avenues to engage and communicate with your target audience, yet they may not work seamlessly together. 
The difference between multichannel and omnichannel is your integration between individual platforms or sales avenues. 
Omnichannel is an integrated experience across all channels. The customer may visit your store in person, then view your products online, before seeing Facebook remarketing for that specific product and then an abandoned cart email reminder when the user fails to checkout.
Omnichannel delivers an integrated experience across all platforms to align communication, goals, and aesthetics. It ultimately leads the customer journey, from their first visit through to their last and all the touchpoints in between. 
This enhances your marketing efforts and is a valuable asset in optimising the user flow. 
What does this mean for you (the retailer)?
It's simple. Omnichannel strategy unlocks growth. 
The use of omnichannel strategies see on average a

89% customer retention rate

, compared to that of single channels at 33% customer engagement.

The use of three or more channels per campaign earned a

287% higher purchase rate

than single use channels.

This is no surprise when another

study

found over

90% of customers expect consistent interactions

across channels.
Omnichannel has become the future of customer journeys in-store and online. 
How does it work in practice? The Iconic AU Case Study
This concept is best cemented via a case study example. We've used The Iconic AU to execute an omnichannel digital marketing strategy that is all inclusive. 
Step 1: Website – The user accesses the Iconic AU website. The site utilises best practice eCommerce functionality across desktop, tablet and mobile to ensure users have a seamless online shopping experience despite device or screen size. 
Step 2: Website – Before bouncing, a first time user promotion is presented offering $20 off the next order and the option to sign up for future promotions. This voucher is emailed through to the user in real time.
If this promotion is unused, the user will receive a reminder after a set number of days to encourage engagement.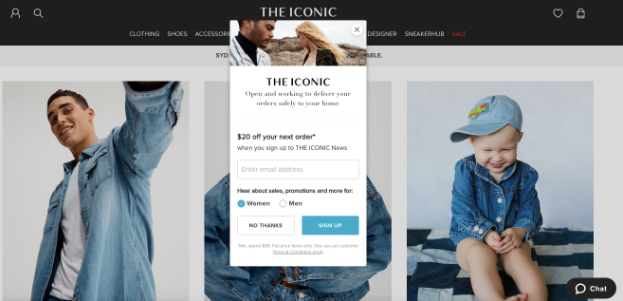 Step 3: eDM – The customer may browse the site and add an item to cart which is later abandoned. Within 24 hours they are emailed a friendly reminder to complete their purchase.
Step 4: Facebook Remarketing – The user still does not complete the purchase, but then sees remarketing advertisements over the following days on Facebook. The remarketing ad is specific to the user's interested product rather than general products or collections.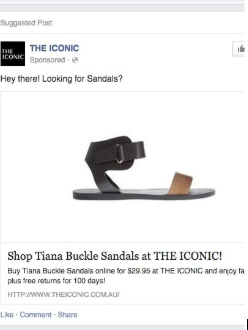 Step 5: Instagram Remarketing – The user also receives Instagram remarketing that tags items with name, price and a view link. On clicking the product tag a modal slides up specifying the products and related products. This takes the user back to the website, who once logged in has their previous products waiting in the cart to finalise the purchase.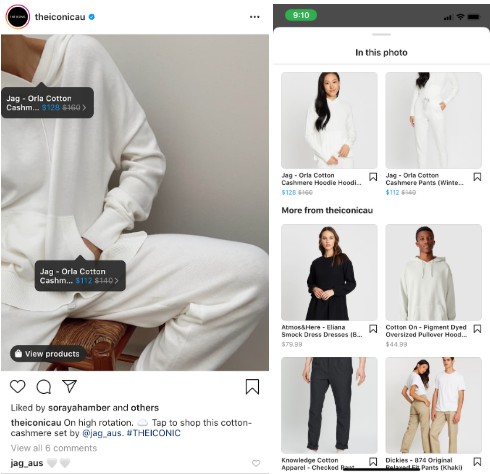 Step 6: Google Shopping – The Iconic also sell their products through Google Shopping. Since the user continues to leave their cart abandoned, they will receive Google remarketing ads to ensure the specific product remains top of mind. These remarketing activities should be staggered over time to avoid customer annoyance.

Step 7: eDM – After another week of no engagement, the Iconic may send a follow up email offering free delivery to prompt the user into finalising the purchase. 
The eDM is optimised for various devices with a clear CTA. It also offers links back to the main website that are tailored to the user (i.e. male versus female user, new arrivals and sale items).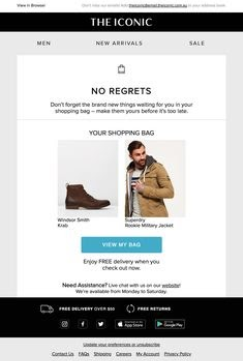 Step 8: YouTube –  After another 7 days of non-engagement, the Iconic may alter their approach to secure the sale. 
The Iconic's YouTube channel has a wealth of information from clothing maintenance tips, fitness routines, social and ethical influence. Altering the targeting to video content offers a different format of communication. The content itself may be based on sustainable development methods are used to generate a sense of customer social responsibility.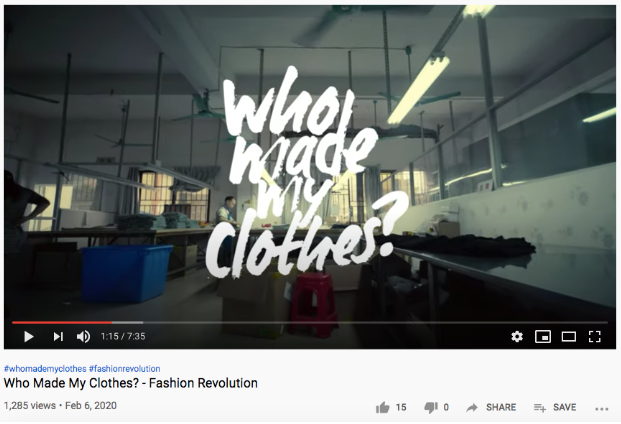 Step 9: Revised Remarketing – This may lead to a second round of remarketing campaigns across socials. Unlike previous remarketing, this could focus on the Iconics 'Considered' products which encourage users to make sustainable and conscious decisions in fashion. 
With this revised approach in place, the user finally commits to making the purchase. When logging back into their account the product is waiting in the cart for processing. 
Step 10: eDM – The user may then receive a 'Thank you' email following the purchase. A week following the user will also receive a follow up email to prompt a product review to close the purchase cycle. 
As per this fictional example, an omnichannel strategy uses the customer's previous interaction to dictate the next interaction. Each step in the process works as a flow that alters the experience based on the customers actions within and between channels.
It's likely this will take refinement to optimise the user flow, though is well worth the commitment from your marketing team.