The National Retail Association is encouraging ACT retailers to prepare now for the single-use plastics ban which comes into effect 1 July.
In the last 7 days, the NRA team visited over 500 ACT businesses in their stores to provide advice and materials. The NRA is also providing a tollfree hotline manned by experts in the ban to further assist businesses.
About the ban
On 30 March 2021 the ACT Government passed legislation which will prohibit the sale, supply or distribution of the following from 1 July 2021:
Single-use plastic cutlery (including bioplastics)
Single-use plastic drink stirrers (including bioplastics)
Expanded polystyrene takeaway food and beverage containers.
Penalties also apply for suppliers which provide false or misleading information.
Other items such as single-use plastic straws are scheduled for a second round ban commencing July 2022.
Steps to prepare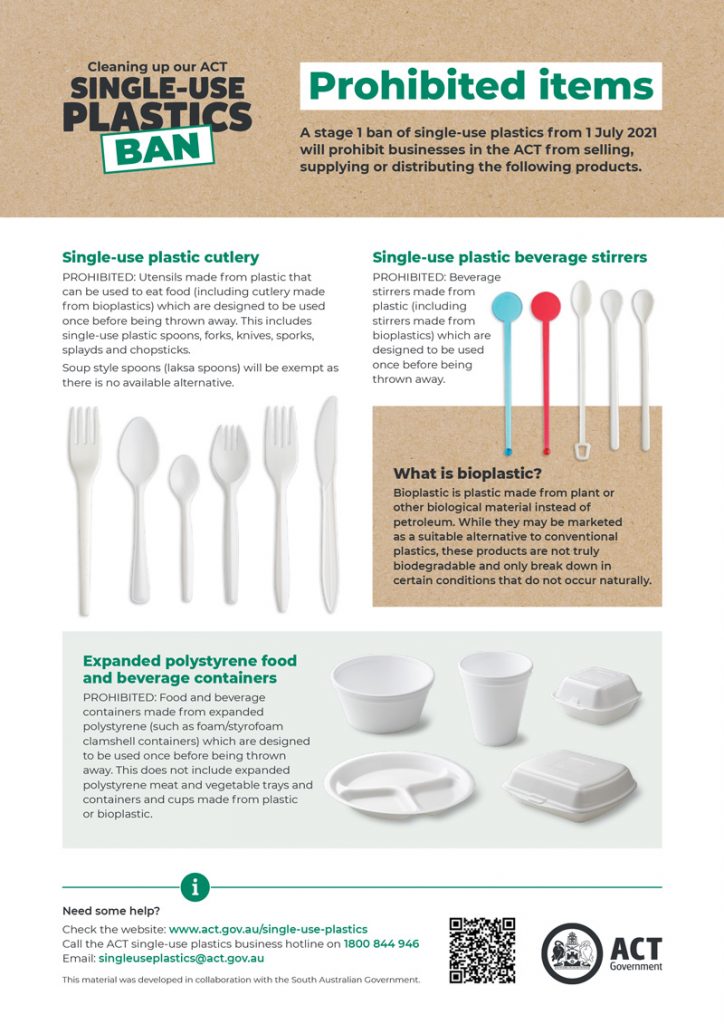 Access the ACT Government website for information on the ban, factsheets and printable signage here.
Check your inventory of single-use plastic cutlery, stirrers and expanded polystyrene food and beverage containers (often called EPS or plastic foam).
Stop ordering these items.
Consider whether you really need to replace these items or if you can reduce the quantity you supply to customers (eg. customers may not need cutlery for home delivery food or straws for bottled drinks). If you do need disposable options, consider long-term sustainable alternatives. Be careful with cutlery and stirrers as some contain bioplastic and are included in the ban. See factsheet on prohibited and alternative items >
Use up any existing stock before 1 July 2021.
Call the NRA's tollfree Plastics Ban Hotline 1800 844 946 if you have further queries.
---
Have a tricky question?
The National Retail Association has been involved in the development of this legislation, advocating on behalf of retailers. If you have a tricky question on how to deal with upcoming changes in your business, contact the Policy Team on 1800 844 946.